Discover more from Pursuit
A weekly collection of ideas on living a meaningful, fulfilling and balanced life.
👋 Welcome to this week's Pursuit. My name is Amir, and each week I go over 10 hours of content in pursuit of living a meaningful, fulfilling and balanced life. I'm grateful to share my findings with you and hope I can have a tiny impact on your life. Subscribe now if you haven't already!
---
This week's discovery:
🤤 Examining Our Desires

🍄 How Psilocybin Can Rewire Our Brain

🏔️ Why You Should Give Up on Your Dreams

💫 There Is No One Else to Become

⁉️ 7 Questions to Impress Your Boss

🗒️ A Quote I'm Pondering On

🎵 Music I'm Listening To
---
🤤 Examining Our Desires
Do you find yourself constantly chasing after what you want without considering whether it's truly worth wanting? It's important to ask yourself what you're really producing and why, rather than blindly pursuing productivity for its own sake. Take a step back and evaluate the cultural stew that you're in - are you being influenced by external pressures to conform to certain expectations, like getting a high-paying job or getting married? Don't be afraid to pause and reflect on whether these desires align with what you truly want out of life. Remember - not everything you want is worth wanting.
🎧 4-min
---
🍄 How Psilocybin Can Rewire Our Brain
If you're curious about the effects of psychedelics and how to best reap their benefits on the mind, I highly recommend listening to the full episode of Andrew Huberman.
Psilocybin, the active compound in "magic mushrooms," has the power to produce incredible therapeutic results, particularly in treating major depressive disorder. In fact, according to a recent randomized clinical trial, the effect sizes reported for psilocybin were approximately 2.5 times greater than those found in psychotherapy, and more than four times greater than those found in psychopharmacologic depression treatment studies. In essence, psilocybin has the power to rewire our perception and change the way we experience the world around us. When used responsibly in the proper setting with supportive psychotherapy, psilocybin has the potential to be a game-changer in the field of mental health treatment.
For those who choose to use psilocybin, wearing an eye mask or keeping the eyes closed for the majority of the session is recommended. This technique allows you to focus on the inward journey and combine your inner experiences with your thoughts, memories, and emotions. By doing this, you can truly reap the long-lasting therapeutic benefits of this powerful substance.
🎧 2-hr
---
🏔️ Why You Should Give Up on Your Dreams
This one is going to be lengthy but it's so important that I couldn't cut out the parts that resonated with me. I went through this journey twice, once giving up on my startup and shutting it down, and the second time moving to San Francisco to work in big tech. I am glad that I gave up those dreams. I'm much more satisfied with my life now.
Goal fusion is when we get stuck on a certain dream for our future and become fixated on closing the gap between our dreams and reality. When this happens, we become disconnected from the work we're doing in the present and may not realize when our dreams are leading us off course. Instead of inspiring us to take action, dreams can become a source of pain and stagnation. At our worst, we can become so attached to them that we fail to recognize when it's time to let go and move on. When caught in a cycle of goal fusion, the solution is simple: Give up on your dreams. I like to think of this as declaring "dream bankruptcy." Similar to how traditional bankruptcy is a financial reset, dream bankruptcy is about resetting your relationship to your dreams so that you can relate to your life and projects in a healthier way.

Here are a few signs that you may be suffering from goal fusion and the dream you hold may no longer be workable:

Narrowing of identity—you feel like you are your project and you would not be OK in your life or career if your project failed

Avoiding contact with reality—you stop publishing your work, avoid talking to customers, or delay releasing a product for fear of piercing your fantasies around a project

Loss of meaning in the present—you are so focused on the extrinsic outcome of your work that you lose touch with day-to-day opportunities for meaning

Tunnel vision—you become so consumed by your project that you miss out on other things you care about (family, health, etc.)

Confronting reality often involves contacting the raw spot that a dream may have been covering. For example, holding tightly to a dream may be a way of managing deep-seated fears around death, unworthiness, or financial insecurity. When we let go of a dream, we're suddenly defenseless against the demons we've been working so hard to avoid.

Another step in loosening your grip on your dreams is to diversify your identity. When we care deeply about something, we often want to pour all of ourselves into it—working like crazy and ignoring other hobbies and relationships. However, research has found that the more complex your sense of self, the more resilient you are to stress.
📖 8-min
---
💫 There Is No One Else to Become
There is nowhere else to get to. There is no one else to become. Getting places and becoming new versions of ourselves happens as a result of being open to returning to exactly who we are right now and living from that place— not through force or coercion, pressure or pushing, always looking elsewhere for what we can only find right here, right now.
📖 7-min
---
⁉️ 7 Questions to Impress Your Boss
I firmly believe that asking great questions is more important than having the right answers. Answers can change as you gather more data, but asking the right questions will keep you curious and help you discover the truth.
What do you think are the 3 biggest issues for our team right now? ⇒ Shows big-picture thinking and caring about the team's success

My top 3 priorities are X, Y and Z — do you feel they're the most impactful way for me to spend my time? ⇒ Shows desire to have impact and work on the most important things

I noticed X happened and I'm worried it might impact our team's goal for Z — am I looking at this the right way? ⇒ Shows proactivity and transparency in identifying blockers

I'm thinking about trying X, Y, and Z to improve ABC. What do you think of those ideas? ⇒ Shows initiative in solving problems

What do you think my strengths and weaknesses are relative to others on our team? How can I double down on my strengths / mitigate my weaknesses? ⇒ Shows desire for growth

I am not as effective as I'd like to be on X — do you have any suggestions for how I can improve? ⇒ Shows self-awareness and openness for feedback

Can I share some feedback for you that might help you do X better? ⇒ Shows courage in speaking truth to power for the sake of the team
📖 10-min
---
🗒️ A Quote I'm Pondering On
Try to buy experiences instead of possessions, or maybe buy possessions that enrich your life by enabling novel experiences.
🎵 Music Tracks I'm Listening To
🎧 You'll find mostly Ethnotronica, Organic House, World, Disco, and Organic Electronic here:
---
Last week, I went to dinner at a good friend's house and tried a new vegetable (Karela) that I had never tasted before. It had a very interesting and unique bitter flavor. I appreciate moments like this that allow me to experience something new in my life.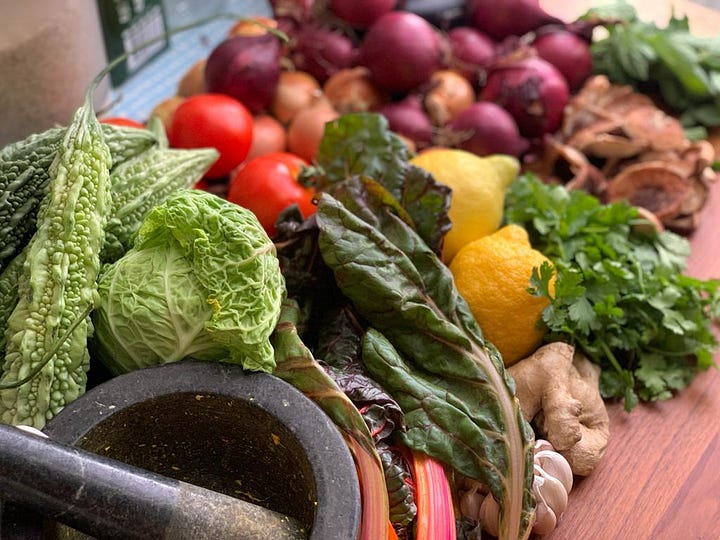 Previously on Pursuit: